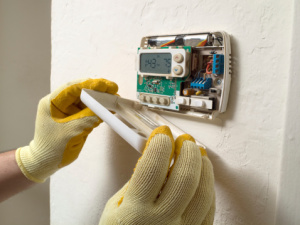 In Tucson, it is important to have a functional air conditioner throughout the year. Regular air conditioner service can help you avoid an issue that keeps you from enjoying cool air in your home. Be on the lookout for the following problems so you can get your unit serviced when necessary without any major hassles.
Leaks
If there is a leak in your system, the air conditioner might not cool your home as much as you want. Refrigerant leaks are common issues with air conditioners and the problem will not be fixed if you simply add more refrigerant. A qualified air conditioning technician can come to your home to find the leak, fix it, and restore your unit to its original potential.
Filters
It is important to get your air conditioner serviced regularly to ensure that all of the internal parts are working as they should. When the air filters get too dirty, the air cannot flow properly through the unit. Without the proper attention, this might eventually cause the compressor or the fans to fail. Be sure to keep up with your air conditioner service to avoid problems like these.
Electric Control
Even if you do get your air conditioner filters changed regularly, heavy use might lead to wear and tear issues with your electric controls. If you turn your air conditioner on and off a lot or if it is too big for your needs, you might experience electrical problems that might affect the way you can use your air conditioner. Ask the maintenance team to check on your electrical components on their next service visit so they can catch a small issue before it becomes a big problem.
B&J Refrigeration is Tucson's top heating and cooling company. Whether you need routine maintenance or your unit stopped working, our professional technicians will do everything they can to provide the best service. To learn more about our services or to request a maintenance visit, check us out online or call (520) 308-6722.