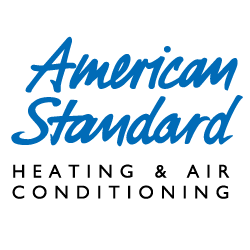 Are you tired of an air conditioner that frequently breaks down? Are you fed up with coming home to an uncomfortable, stuffy house? It's time to consider upgrading your central AC unit to an American Standard. American Standard has long been considered the gold standard in heating and air conditioning systems. Make the call today and start looking forward to lower energy bills and a more comfortable home for your family.
American Standard offers excellent energy efficiency.
Energy efficiency is among the most important considerations when upgrading your central air conditioner. AC manufacturers rate their products for energy efficiency based on the Seasonal Energy Efficiency Rating (SEER). A higher SEER number is desirable. Recently, the U.S. Department of Energy mandated that split systems sold in the southwestern U.S. have a minimum SEER number of 14. Of course, an even higher SEER number will reduce your energy bills further. You'll find plenty of AC units by American Standard that meet or exceed the minimum SEER number for Arizona homes.
American Standard air conditioners have a range of features.
A cooling system technician can help you choose the right American Standard AC for your home. Before you make your decision, consider the available features on their models. For example, the Gold 17 model is equipped with two-stage cooling. This means it runs at peak energy efficiency on all but the hottest of days, when it automatically switches to a more intensified operation. Or, you might prefer the AccuComfort Variable Speed Platinum 18 model, which is almost certainly the quietest central AC you'll find anywhere. It also features a wider operating range, which minimizes cycling on and off.
B & J Refrigeration Inc. – Heating and Cooling is proud to install, maintain, and repair American Standard equipment. You can count on our certified technicians to provide timely and reliable services for your home or business in the Tucson area. Call (520) 355-4857 to speak with a friendly member of our office staff.